A Brand New Day – that's the name of the theme of my homepage, and that's what this season of my life is.  A brand new day!
I'm emerging from years of being on survival mode – having babies, nursing babies, changing diapers, homeschooling my little family (okay, not so little).
Well, we're still homeschooling (YAY), but I think it might just be that all that other stuff is  behind me.  One never can tell, but at least mentally, I can tell I'm moving on.
Don't worry, I'm still obsessed with coming up with ways to help Noah (7-Down syndrome and apraxia) find his voice.  And I'll still be making and sharing free home speech therapy printables here at www.wordsofhisheart.wordpress.com.
But I've been busy making other things as well.  What other things?  Well, a little of this:
Red, cream and tan plaid kitchen towel with applique chicken (hen).  http://www.etsy.com/listing/177340512/country-chic-little-red-hen-kitchen?ref=shop_home_active_9
A little of this:
Red and white vintage style crocheted potholder
http://www.etsy.com/listing/179129516/new-vintage-style-red-and-white?ref=related-7
A little of this:
Custom word art – A silhouette of bride and groom's first kiss made up entirely of words.  JPEG image, comes ready for printing or for use for personalized word art wedding invitations or wedding thank-you notes.  Print and frame for a one-of-a-kind, incredibly inexpensive wedding present.
http://www.etsy.com/listing/181488496/word-art-custom-art-for-framing-or-card?ref=related-0
And this: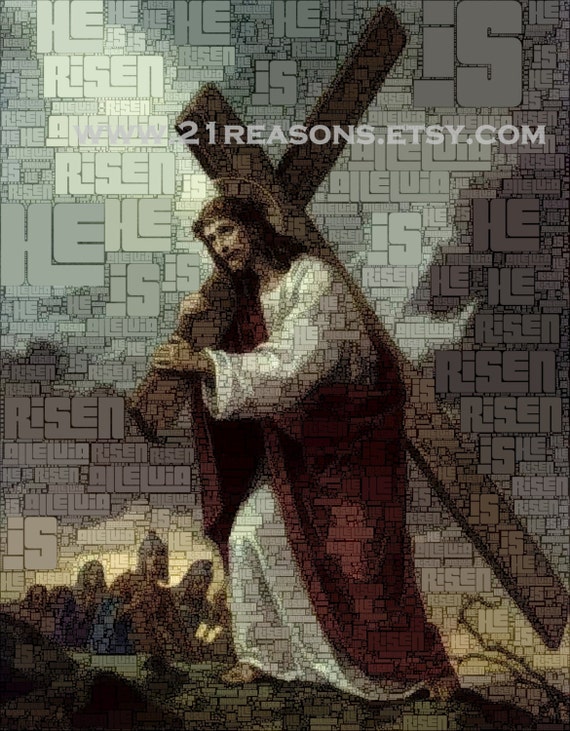 Beautiful high-quality JPEG word art of Christ carrying the cross to Calvary.  Entire image is made up of the words "Alleluia, He is risen."  Great printable for framing or for card making just in time for Easter.
http://www.etsy.com/listing/181432241/printable-word-art-jesus-carrying-cross?ref=related-2
And this:
Happy Easter Word Art – high-resolution JPEG image of a Monarch butterfly made up of the words Alleluia, He is risen, Happy Easter.  This image is suitable for framing (8 x 10) or resizing for card making.
http://www.etsy.com/listing/181283368/easter-art-printable-jpeg-8-x-10-happy?ref=listing-shop-header-4
And this: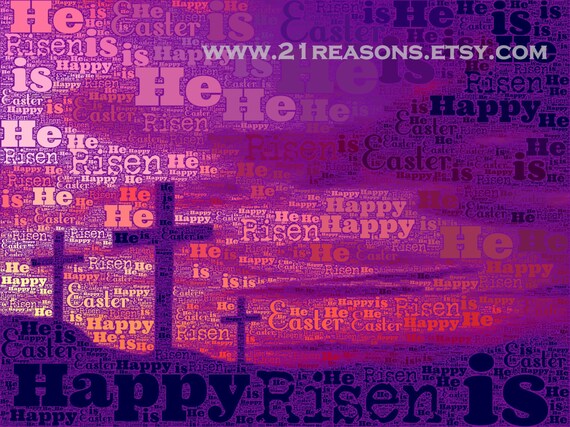 More Happy Easter Word Art.  This high-resolution JPEG is suitable for framing right out of the printer or for resizing and using in card making, scrapbooking, etc.
http://www.etsy.com/listing/181364449/printable-easter-art-3-crosses-on?ref=listing-shop-header-3
And because I feel guilty I've spent the week doing this instead of making speech therapy printables to share with you, here's a freebie that shows you how Noah feels about having Down syndrome.  Just click on the image below for a printable image.  (You can also get it at my Etsy store, but I figure you'd rather have it here for free.)
Word Art – Down syndrome awareness.  Who doesn't recognize the universal picture of a boy jumping for joy.  This 8 x 10″ image is made up completely of phrases that tell the world that having Down syndrome is just one of the details that make this boy who he is.  You'll find phrases like I have Down syndrome, I am precious, I am funny, I am clever, I am loved, I am special, I am a gymnast, I am mischievous, etc.
I'll update as I add more things to my Etsy store.  If you see anything you like but need it customized, I LOVE custom orders.  Visit my store at www.21reasons.etsy.com and convo me for details.  I can do word art with most images and any text you'd like.
Blessings,
Alyson